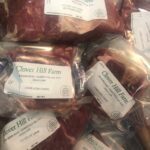 Quality Meats, Pastured Beef, & More
We offer a wide variety of cuts of our pasture-raised beef, lamb, and pork, all for sale at our local farmstand here in Hardwick. Roasts, steaks, chops, sausages, grinds and more...Scroll to learn more about our truly local meats. Food that really is food less traveled!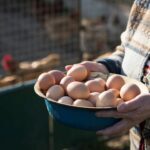 Cage-Free Local Eggs & Poultry
Looking for fresh local eggs? You will find those here at the Clover Hill Farm Store, too. Our poultry is raised on our own Clover Hill grains and safely housed in warmth and cage-free comfort throughout the year. Scroll to learn more about how your local, cage-free eggs and meat chickens are raised.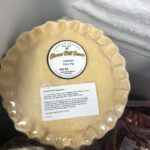 Local Prepared Products & Ready-to-Heat Dinners
We stock delicious frozen prepared foods made in partnership with a local chef, all made with our homegrown pastured beef, lamb, and pork, cage-free poultry and turkey. Scroll down to see our list of very popular ready-to-heat, take-and-bake meals made with quality CHF meats!
Our four-season, full-circle, completely local farmstand offerings start with the produce of our own farm right here in Hardwick in central Massachusetts (a short but beautiful country drive from major Massachusetts cities including Springfield and Worcester). The farm stand is open all year, seven days a week, sunrise to sunset, ready to fill your local meat needs...and then some!
Full Circle & Fresh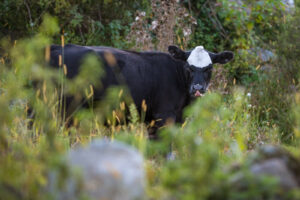 Though the beginnings of our Hardwick farmstand were based primarily on our selection of farm-grown meats, we are more than a local meat farm--we grow and sell a range of products, from seasonal vegetables and cut flowers to quality cage-free and pasture-raised meats. We carry many prepared products, too, made with our own CHF fresh meats and produce.
We consider ours a full-circle farm because we grow and control so much of what goes into our animals and our products--starting with grass, hay, and GMO-free grains grown right here on the farm, which feeds pastured beef and local pork and lamb born and raised here, and non-GMO poultry grown on grains grown only by us. Ours truly is food less traveled, from feed to finish (including processing and packing at local USDA and state-inspected processing facilities).
Quality Pastured Meats Raised Right
In our farm stand you will find a variety of farm-grown, GMO-free meats, pastured beef, pasture-raised lamb, and pork grown in spacious pens with plenty of access to open air, sun, and shade.  We treat every animal humanely, raised with the respect and care your meat deserves. 
Clover Hill meats are frozen fresh at the time of processing to maintain the best possible quality until ready for use, and thus we are able to keep and maintain a great variety of our farm-fresh meats and products throughout the year (with the exception of farm-fresh turkeys available for fresh pickup for Thanksgiving--please see additional information below).
⁓ Pastured Beef
Clover Hill beef is pasture-raised on a base diet of grass-fed lush green grasses while in season, and our own locally-harvested Clover Hill Hay during the winter months. This pastured beef is supplemented and finished with Clover Hill-produced GMO-free corn and non-GMO grains for superior marbling, texture, and flavor. 
Expect to find a variety of pasture-raised beef cuts in our store, including: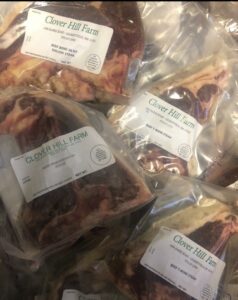 Wide variety of Beef roasts and steaks

Pastured ground beef and stew beef 

Soup bones and beef bones for stock

Beef liver and beef organ meats 

Prepared beef soups and stews
⁓

Pork

Comfortably grown in spacious, airy pens with access to both the protection of inside run-ins and outside areas with sun and shade to keep them comfortable in all weather, we manage our pig farm to humanely produce non-GMO pork of high taste and quality. Our GMO-free pork is locally fed with our own farm-produced grains (low-cost, low-travel, low-environmental-impact pork!).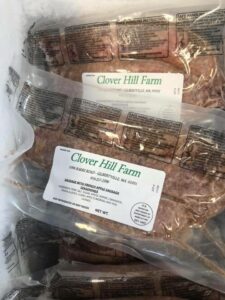 In our farm store you will find all the best cuts and variety or our 100% local pork products:
Pork chops, cuts, ribs, and roasts

Pork liver and organ meats

Seven (7!) Varieties of pork sausages 

Smoked meats and

Bacon!

Ready to eat prepared pork products
⁓ Lamb
Our carefully-managed flock of sheep is pasture-raised here on the farm and fed quality Clover Hill hay through the winter. Sunshine, green grass, fresh air, and pasture, along with good husbandry and herd management, make for a high-quality lamb product. 
The Clover Hill farm stand is well-stocked with a variety of lamb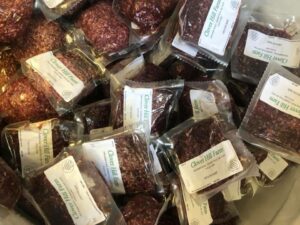 products, including:
Lamb chops

Legs of lamb

Lamb shanks

Lamb stew meat and ground  lamb

A variety of lamb sausages

Lamb organ meats

Traditional ready-made lamb products
Humanely-Raised, Cage-Free Eggs and Poultry
Ranging cage-free, both our meat and egg-laying chickens are grown in the predator-protected sunlit spaces of our converted dairy barn with access to plenty of fresh air and room to roam, scratch, and peck.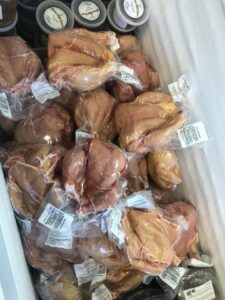 Poultry that is grown cage-free is stronger and healthier, with decreased mortality rates from weakness and disease. We manage our flocks this way so that we do not need to add antibiotics to our feed and our antibiotic-free, GMO-free chickens are fed our balanced, farm-mixed blend of CHF grains. We raise two separate flocks of chickens to produce local farm-fresh chicken meat and cage-free eggs. Each breed is specifically chosen to produce the best product, whether that be for the production of quality, nutritious local eggs or for quality, nutritious farm-fresh chicken for meat. 
Our local chicken products grown here on the farm include:
Fresh local eggs (cage-free eggs!)

Frozen-fresh chicken--whole "oven-stuffing" broilers

Poultry organs and feet for stock
Fresh, Never Frozen Local Thanksgiving Turkeys for Sale
If you've been searching for where to buy a fresh turkey for your Thanksgiving table, one that is raised right and comes to you fresh and not frozen, our farm-fresh turkey is for you. We grow our turkeys much in the same manner as our chickens, in designated pens, cage-free with sunlight, air, and room to grow, fed a balanced Clover Hill GMO-free turkey feed. We then partner with a licensed and inspected local processor so that we can pick our birds up fresh when they are ready and keep your turkey fresh for you, ready for pickup here at the farm. Fresh handling of turkeys means that we do require pre-orders for Thanksgiving and scheduled windows for pickup.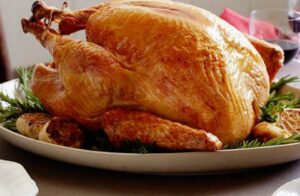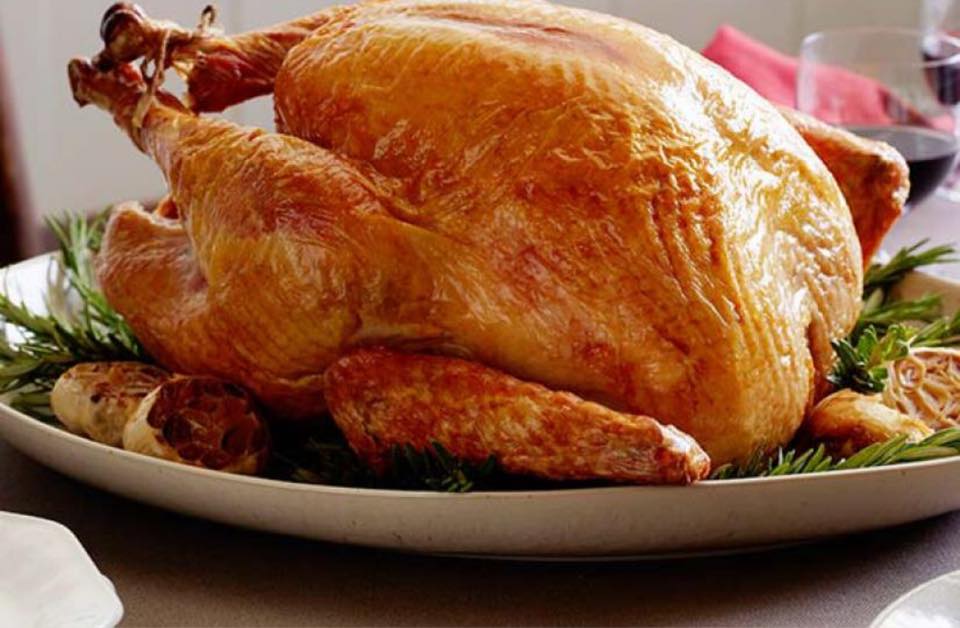 Please contact us to arrange to have a farm-fresh turkey reserved for you for Thanksgiving.
We conscientiously grow our turkeys to offer:
Fresh-frozen farm turkeys

Delicious prepared turkey products ready to heat and eat!
Locally-Produced Prepared Products
Our farm stand is stocked with a number of prepared products all made with our quality meats. These are top-quality, delicious prepared foods that are made locally in partnership with a skilled local chef in a licensed commercial kitchen. We offer them fresh-frozen in the farm store, ready for you to take, heat, and eat. Only minimal warming or baking is required. We are proud to offer our ready-to-make Clover Hill Farm line of prepared convenience products for healthy, tasty, preservative-free, quality meals featuring every type of Clover Hill meat for you and yours: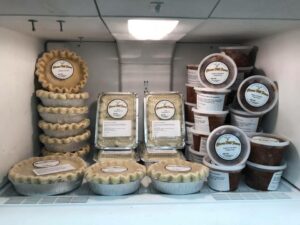 Beef Stew

Beef & Barley Soup

Pork Apple Pie

Savory Pork Pie

Irish Shepherd's Pie with Lamb

Pulled Pork - Smokey or Chipotle

Turkey Pot Pies - 6 or 10 inch

Turkey Barley Soup
More Unique Local Central Massachusetts Products
Quality meat and meat products is not all we sell! We offer unique products that are either produced here on Clover Hill Farm or are produced and carried through local partnerships:
Cranberries: Our very own Clover Hill Cranberries grown right here on the farm--yes! Local cranberries grown in central Massachusetts!
Fresh Cut Flowers: Seasonally available cut flower bouquets and arrangements from our "daughter" farm, Lone Birch Blossoms

...including a seasonal Flower CSA

Christmas Wreaths and Holiday Greens: Local seasonal holiday greens and local Christmas wreaths by Lone Birch Blossoms, made with farm-grown and local greens
Local Raw Honey: Our local honey is the produce of a partnership between Autumn Morning Farm Apiary in

 Barre, MA and CHF. Autumn Morning's honey bees pollinate the Clove Hill cranberry crop, which in turn brings us both an abundance of berries and honey, and so we are happy to offer their quality local honey in our farm store

Local Maple Syrup: We stock maple syrup produced by Hardwick Sugar Shack right here in town. We are happy to share the sweet sap from our trees, and carry their local maple syrup in our store, too!
In addition to these in-stock local products in our farm store, Clover Hill has cultivated a number of partnerships with other local businesses in the wider Massachusetts community. Please visit our "Partners" page to see who else we are partnering with, and where else you might be able to support both Clover Hill and local small businesses and Massachusetts-produced products.
Farm Store Open Year-Round, "Sun-up to Sunset," 8:00 am to 6:00 pm, Seven Days a Week
Cash & Checks Accepted