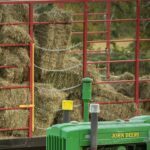 Horse-Quality Small Square Hay Bales
In addition to large feed-efficient square hay bales, we sell traditional "small" square bales. This includes horse hay and hay for all types of livestock. Scroll down to see what cuts and sizes we offer.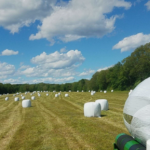 Wrapped Round Hay Bales
Our livestock hay selections include round wrapped hay bales and silage bales. Scroll down to see what we offer for all types, sizes, and cuts of livestock hay.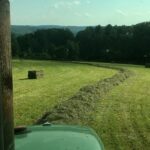 Dry Large Square Hay Bales
For feed and handling efficiency, we now offer large dry square hay bales for sale. Scroll down to learn more about these large square bales that save both time and money.
High-Quality Livestock Hay for Sale
Producing high-quality livestock hay is and has been a primary focus of our central Massachusetts farm for many years.  With literal decades, in fact, generations of experience in hay production, we know what it takes to produce the type and quality of hay for all types of livestock. Our hay is a mix of orchard grass, timothy, and native grasses and hay bales are available in a variety of sizes and shapes for feed quality, efficiency, and manageability. Whatever you are raising, we have hay for sale for you!
→Cow Hay for Sale
If you are looking to buy hay for cows, we have both dry and silage hay bales available for your beef or dairy herd in a variety of feed-efficient sizes, as well as small hay bales for easy handling. 
Please see below for more details on bale sizes of hay for cows. 
→Top Quality Hay for Horses
We offer quality dry hay for sale for horses in a variety of sizes geared toward ease and efficiency of handling, depending on your farm's equipment and handling capabilities and also on the goals of your feed program. We have horse-quality small bales as well as large dry hay bales for horses.  
Please see below for size and cut options of horse hay for sale at CHF.
→Hay Bales for Sale for Livestock
Goats, sheep, llamas, alpacas, rabbits...we have livestock hay for sale for any animal. Dry hay or silage bales, in large or small sizes. 
Please see below for details for livestock hay for sale.
Early & Late-Cut Hay for Sale, Small & Large Hay Bale Sizes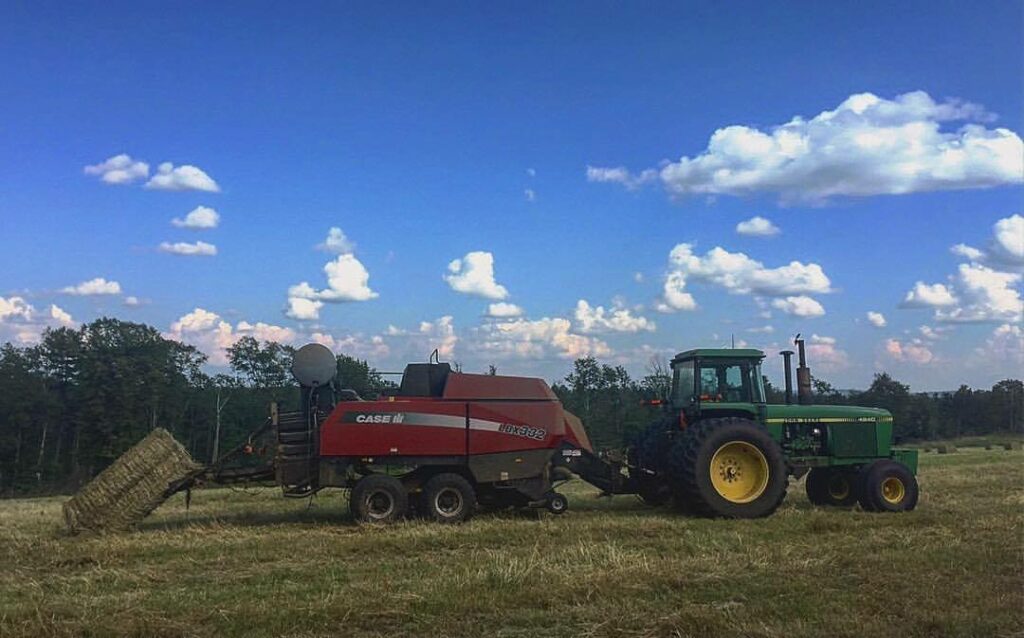 Cuttings available include:
First cutting hay bales

Second cutting hay bales
Third cutting hay bales (wrapped round bales)
Types of hay bales:
Wrapped silage bales

Dry hay bales
Hay bale sizes include:
"Small" square hay bales for sale: By small we mean traditional bales of average size as opposed to large round or square bales that require equipment for handling.
Large square bales: Like traditional small square bales, our large hay bales are also dry and appropriate for feeding all types of livestock, including horses. Larger sizes mean more efficiency in production and value for customers who are capable of handling them. Large square hay bales measure 3x3x7 feet and are roughly equal to 16 average "small" hay bales. 
Round hay bales: Round bales are wrapped round silage bales and can be stored outside. 
Pick up at the farm is preferred, however, we do offer delivery of hay bales for an additional fee. All hay for sale is priced at market price; please contact us for rates.
Straw Bales for Sale
In addition to hay bales, we also have seed-free straw bales for sale. Small and large straw bales available. Find out more on our Local Grain page. 
Buy Hay from Clover Hill Farm
The best ways to reach us are by text or email, as we are most often out working on the farm and unable to take a phone call (we will, however, return a call if you leave a message).