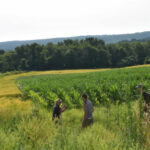 Locally-Grown Livestock Grains
We specialize in producing locally-grown GMO-free corn, soybeans, and livestock grains. We aim to serve the small- to mid-size grower with affordable pricing and low minimum orders for bulk grain purchases. Scroll for more about poultry and livestock feed options.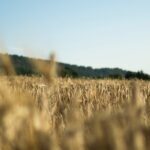 Small Grains for Brewers & Others
In addition to our locally-grown livestock grains, we also grow alternative small grains for brewing, malting, and other uses. We work in collaboration with several local businesses. Scroll to read more about our small grain production and local partnerships!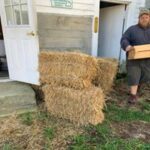 Now Available - Straw Bales for Sale
Straw is a very useful byproduct of grain production, and so, we are now able to offer local straw bales for sale, too. We offer both large and small straw bales for a wide variety of uses--commercial, residential, and agricultural. Please scroll down to learn more.
Specialty Grains & Local Livestock Grains Custom Ground for Small and Mid-Sized Farms
One of our more recent product additions at Clover Hill Farm is the production of grain crops for livestock feed and other uses, including malting and brewing. We have found a home providing quality bulk livestock feeds, whole grain feed, and non-GMO feed options that economically suit the needs of local small to mid-sized farms and backyard "homesteaders" raising their own meat animals for quality control and assurance--much as we are doing here for our own meat customers. Our custom livestock grain customers tell us we are an economical alternative to farm store bagged feeds, and that our mid-level bulk grains help bridge the gaping gap between bagged feeds and large grain mill minimums, essentially the only other options for buying bulk grain for livestock.
Custom Grain Feed Blends & Bulk Livestock Feed for Sale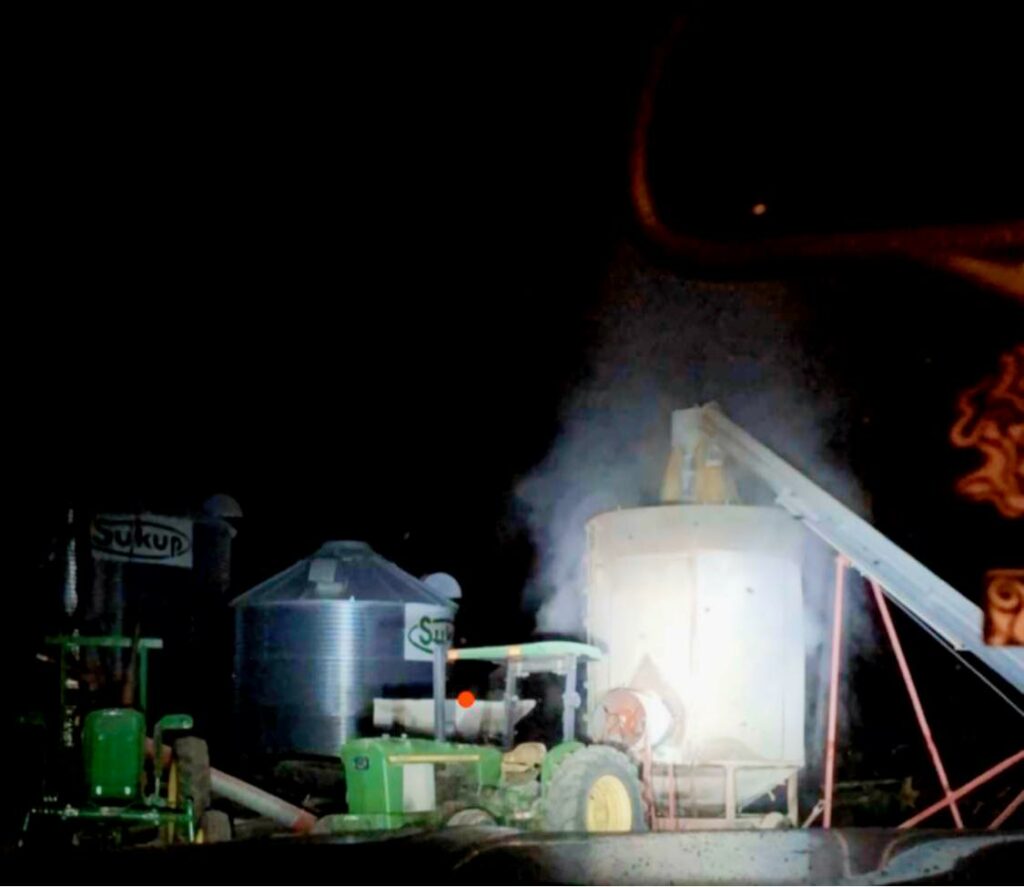 Beginning early on with whole corn feed crops, over the last decade we have expanded our grain crops to include non-gmo corn and soybeans for bulk livestock feed, available in custom-mixed grinds for a variety of livestock types. Every aspect of grain feed production is managed by Clover Hill Farm--from the selection, planting, growing, and harvesting of our grains to the mixing, grinding, and sale of our livestock feeds.
We are proud to be able to say that we have 100% control of our feed grain product. Our livestock grain feeds are: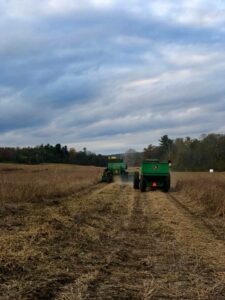 →Ground fresh on the farm
→Ground to order
→Custom mixed for your specific type of livestock
→Custom-blended to reach feed element and nutritional goals, including target protein percentages and mineral content (*custom blends are mixes of the whole and ground grains grown at CHF and are not pelletized grain rations)
→Roasted soybeans for nutritional accessibility and digestive health
→Pick-up on the farm in barrels or bulk grain bags, filled to order when you arrive (customer must supply containers; limited quantities of barrels and bulk grain bags are for sale from CHF)
We are able to produce grinds in a variety of grind sizes to reduce grain feed waste and to accommodate the feed, palatability, and digestion preferences of the animals you are raising. Grind options include:
→Whole corn feed and grains
→Cracked corn and/or soybeans
→Fine-ground meals
Bulk livestock feeds are appropriate and most popular for:
→Cattle
→Pigs
→Poultry
→Others? Ask us if our GMO-free corn, grains, or soybeans are right for your herd or flock
Low Bulk Grain Feed Minimums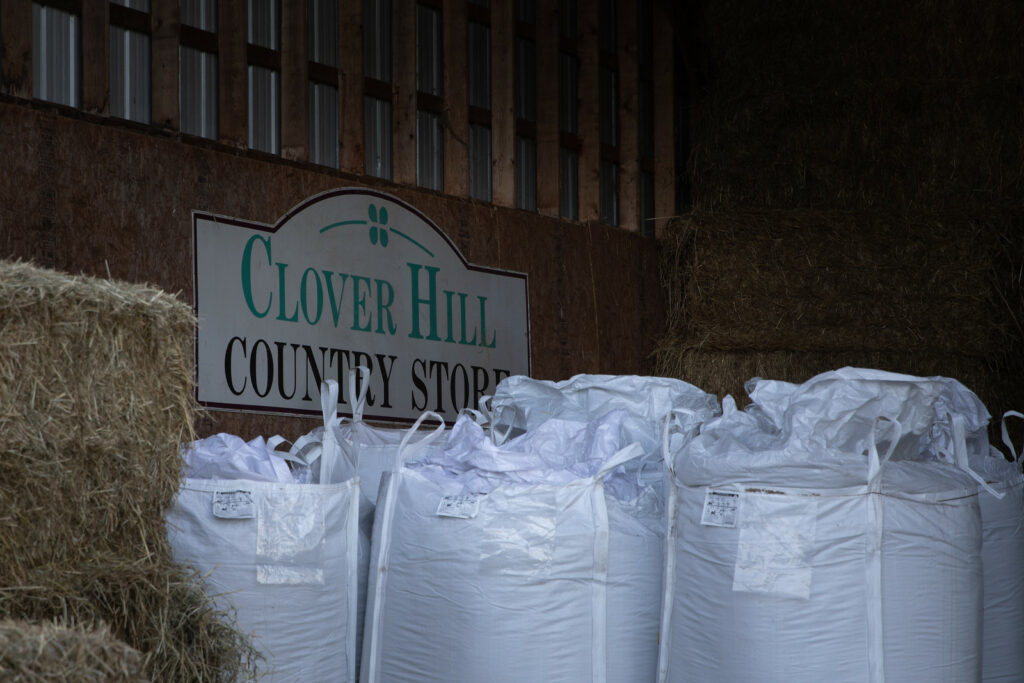 We strive to make quality, affordable grain feeds available for livestock growers and mid-sized farmers, not unlike us, to help further the cause of traditional, diversified, and modern farming and agriculture in and around the greater Hardwick and Central Massachusetts farming community. Farmers in Massachusetts have a long-standing tradition of cooperation and camaraderie, which we are happy to help uphold. To that end, we offer low minimum orders and large-order discounts:
→1,000-pound minimum order for bulk livestock grain
→Bulk grain discounts for orders over 3 tons
Alternative Grain Crops for Brewing and More
In addition to these bulk livestock grains for sale, we have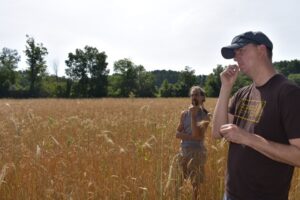 expanded our grain production to include a variety of grains for other uses, including human consumption, brewing, malting, and more. We work with a number of local breweries, processors of wholesale brewing grains, and other local entities on a variety of projects. Brewing and grain crops include:
→Barley
→Wheat
→Rye
→(And though not a grain, we do grow hops for brewing, too!)
If you are interested in learning more or buying bulk brewing grains wholesale, please contact us to see how we can collaborate on your next project. 
And please--head over to our Local Partners page to see who is using Clover Hill grains for beers, brewing, malting, and more!
Straw Bales for Sale 
Where there is grain, there is straw. Straw is a valuable byproduct of our grain production, and so we have quality dry straw for sale, too. Useful as seed-free mulch, for animal bedding, landscaping, contracting and site work, or any other purpose you might have for straw bales. 
Straw bales are available for sale in two sizes to suit customer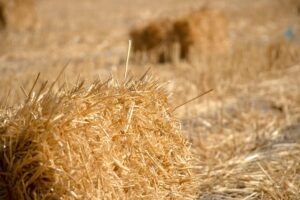 needs:
→"Small" straw bales--traditionally-sized bales, much the same size as a typical bale of hay
→Large square straw bales--measuring 3x3x7 feet, approximately equal to 16 small square bales
We have straw bales for sale available for pickup at the farm. Large orders of straw bales can be delivered for an additional fee. Straw bale price is market price and delivery fees vary depending on your location. For more information or to buy straw bales, please contact us via our Contact page (text or email preferred).