Hay for Sale: Here's Where it Starts
It's rather an age-old saying: "Make hay while the sun shines."
It's a proverb said to date back to medieval times, emerging as a mainstream idiom some time in the 16th Century and popularized by John Heywood's writings in 1546.
Its literal definition in agriculture is to, well, "make hay during favorable (dry) weather," according to Wiktionary.com.
Its more idiomatic definition is defined as, "to act while an opportunity exists." (Wiktionary.com)
...Perhaps these are all pretty obvious definitions, but nevertheless, it's an age-old saying for a very good reason and it may be even more true for farmers in a year like this, with the ups, downs, growth, and changes we've all been facing.
Hay loaded and ready for delivery by the hardworking CHF crew.
And so, with this (rather unusual) extended stretch of dry New England weather, we here at Clover Hill Farm have been quick to take advantage and do just what our fathers and grandfathers taught us to do (and yes, mothers and grandmothers, too!). We have been very, very busy making hay while this sun is still shining, so that we have plenty of hay for sale now and through the months ahead this coming winter.
Making Hay of All Shapes and Sizes
Please enjoy these photos from our very busy first-cutting hay season, and get to know a little more about Clover Hill Farm and the variety of hay options we have to offer.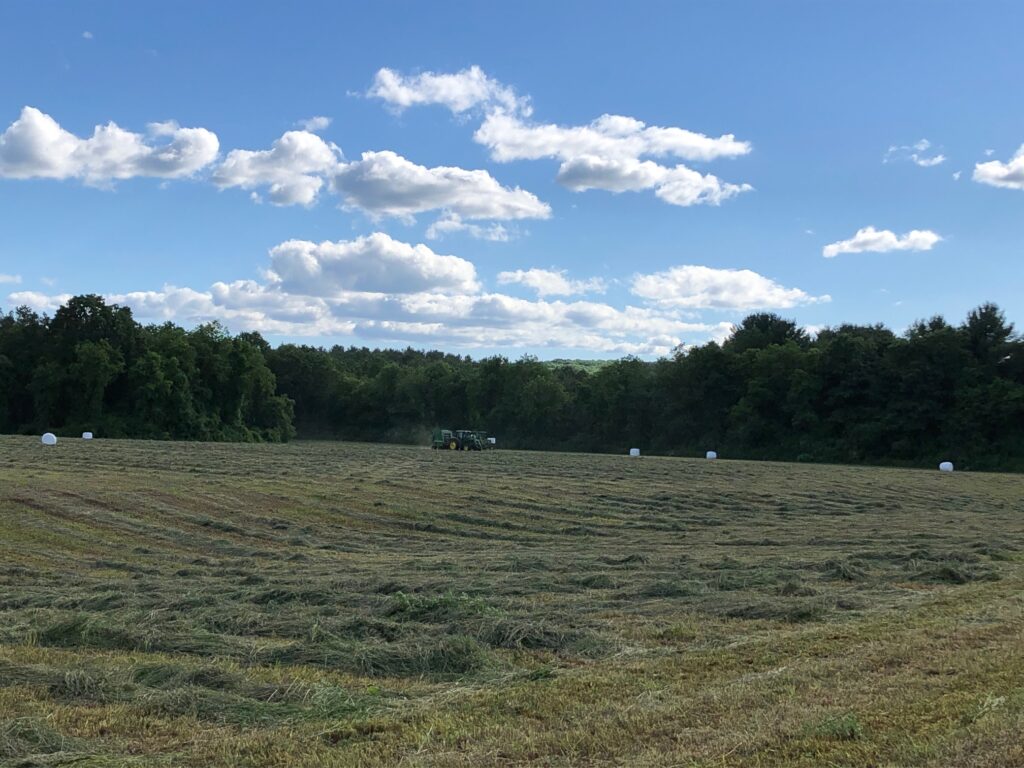 It is a definite truth in the farming world that you definitely do need to make your hay while the sun shines.
It's something that in many generations of farming at Clover Hill Farm we've learned you do not try to dispute.
So when the weather is right, we lay it all down!
When it's time to hay, it's all hands on deck.
And of course Ted is always there to make sure everyone is doing their part.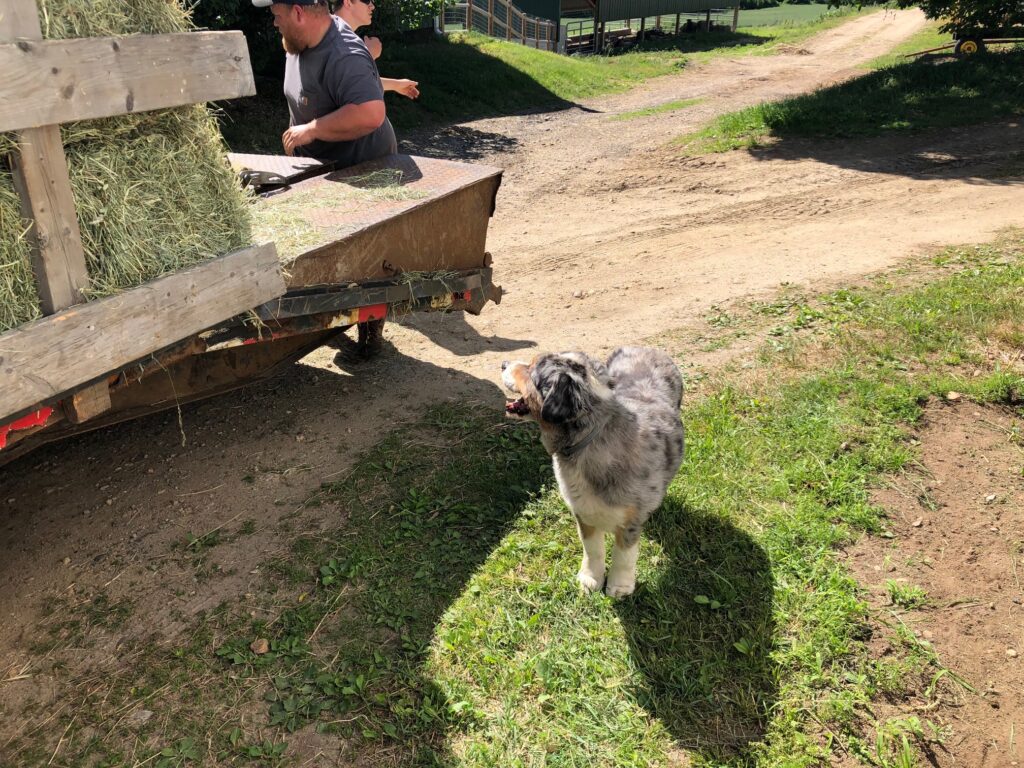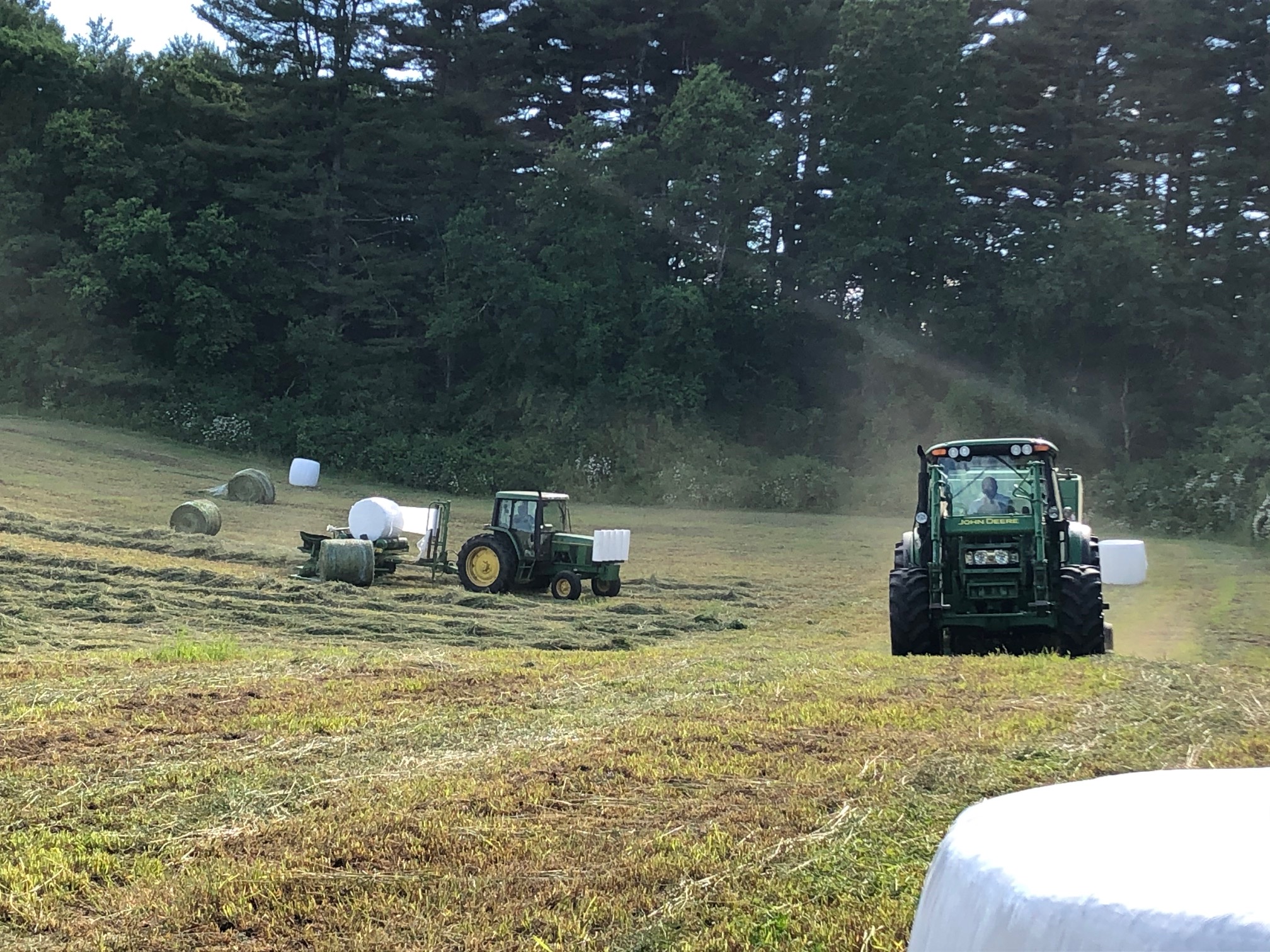 Teamwork makes for quality, efficient hay-making. Here is the CHF crew doing a custom hay job making wrapped round silage bales.
Though this was custom work, we also make wrapped round bales of our own, high-quality feed. Easy-storing wrapped round hay bales are one of the livestock hay options we offer for sale throughout the year.
Contact us to buy wrapped round bales or if you have a field of your own that you are interested in having this quick and efficient crew of haymakers custom bale for you.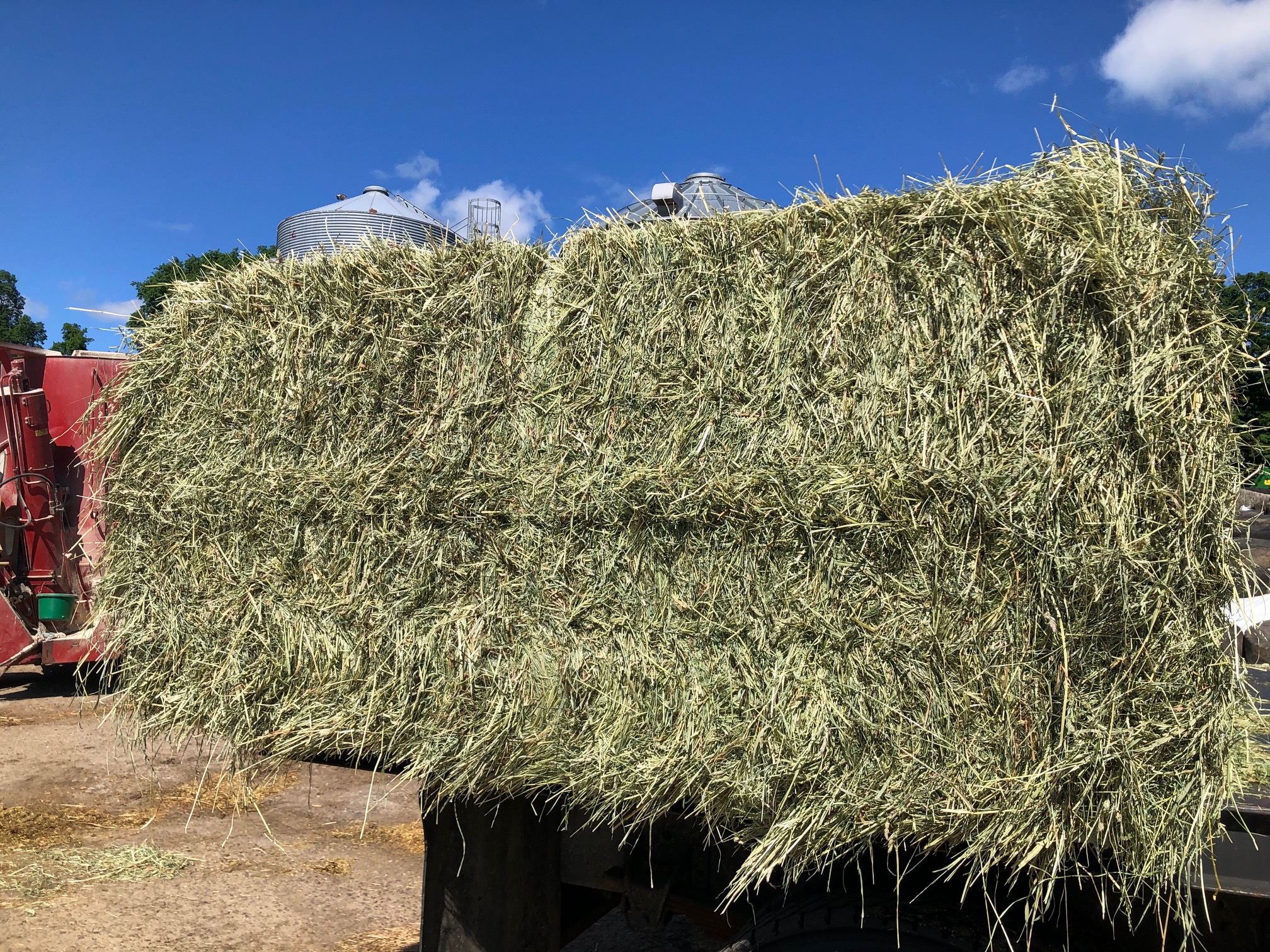 Large square hay bales are a more cost-efficient way for us to make and sell hay because they require less handling. They are basically like small bales but in bulk. These bales are dry hay bales perfect for horse hay or for livestock. They only differ from our small square bales in size and efficiency in production and in handling. Learn more about large square bales on our main site.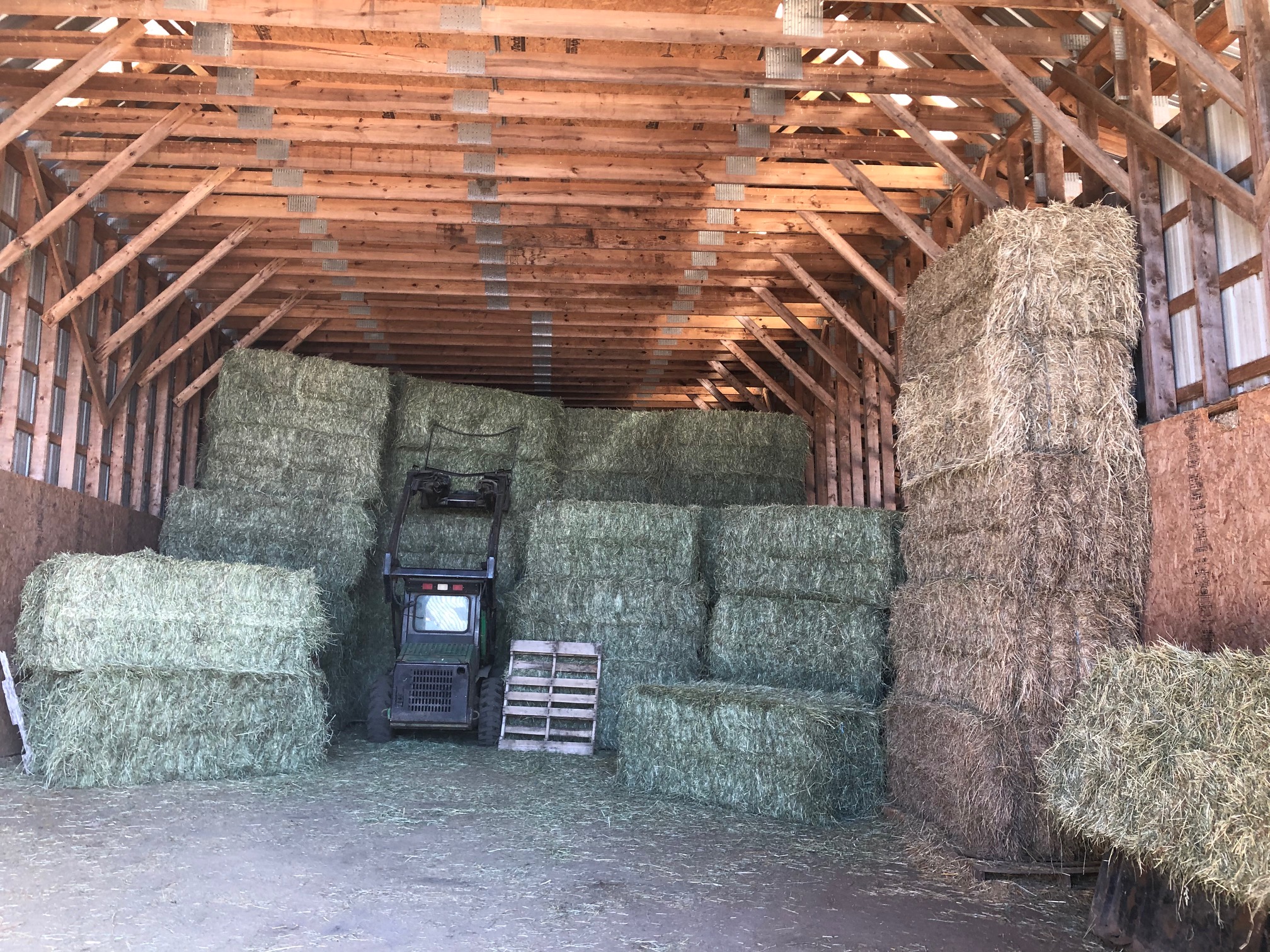 For those customers more set up for storing and handling traditional small square hay bales, we have those for sale, too. This is a great time to get next winter's hay stock in the barn, and know that your supply is secure!
Small dry bales are appropriate for all types of livestock, including for those looking for horse hay for sale in and around Central Massachusetts. 
Hay Delivery is available by arrangement. This picture is one of our deliveries stacked and ready to go into our customer's barn.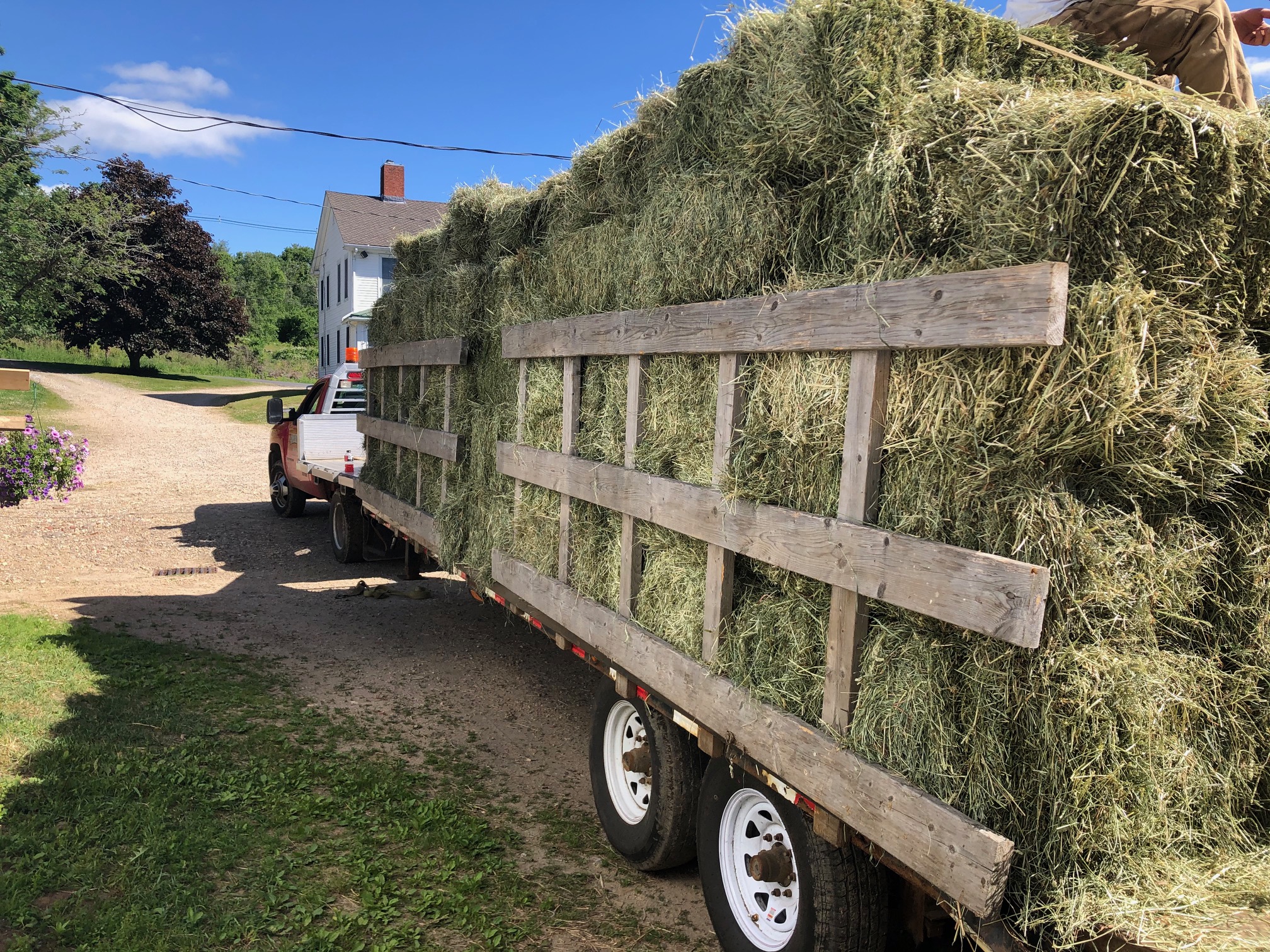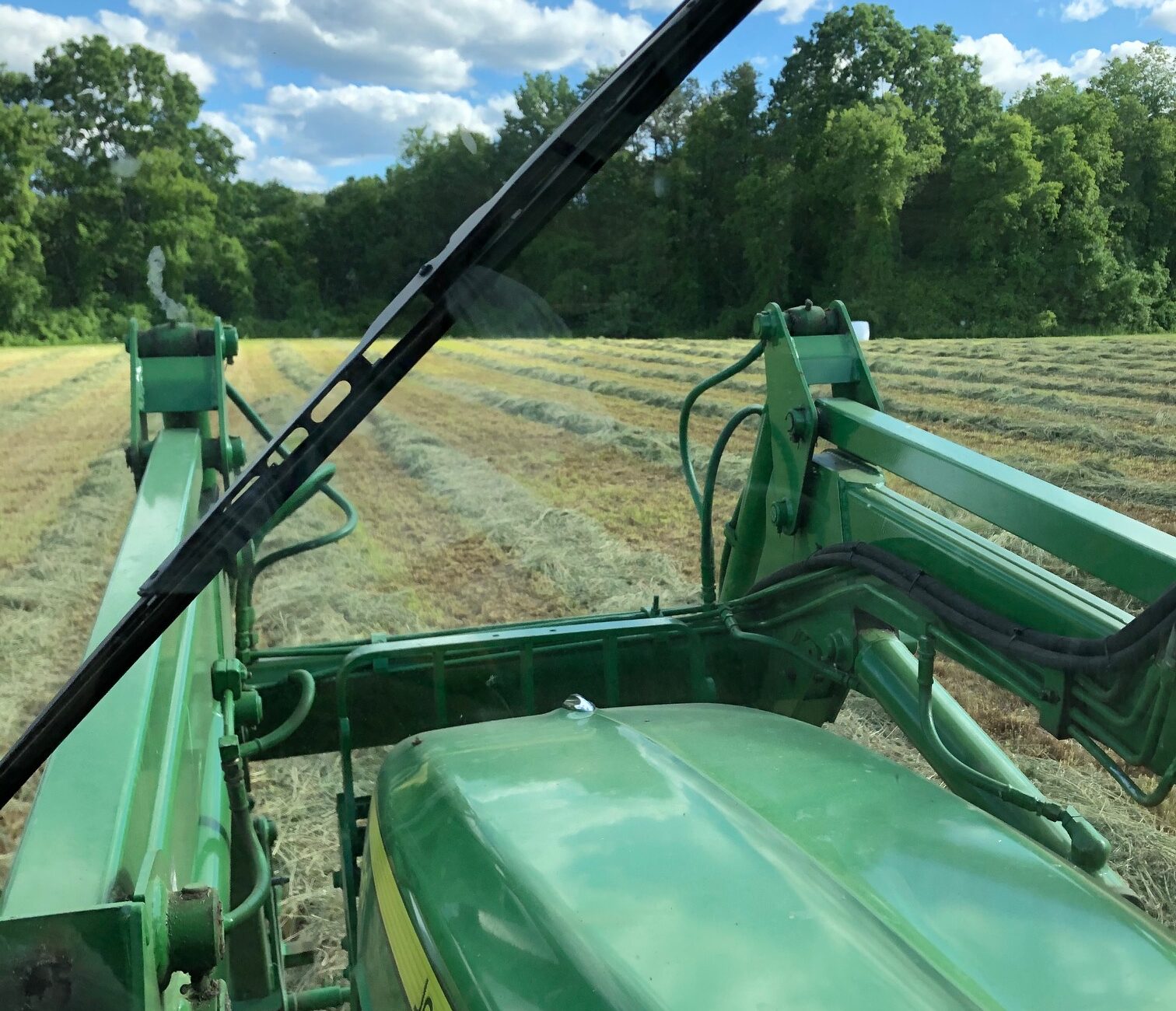 When it comes right down to it, the view from our office is not so bad out here in the sunshine and fresh air!
Visit Our Main Site for Details on Hay for Sale -- Any Type or Size
For more information (such as bale size or type) and to learn more about all the different options in hay offered by Clover Hill Farm, follow this link to the Hay for Sale page on our main website.
While you're there, feel free to click around and see all the other things CHF has to offer, including our on-site farm store, our daughter business Lone Birch Blossoms, and livestock feed and grain for sale.
We know it wouldn't be fair to leave you without the obligatory Ted picture.
Here's "Goodbye for now" from Ted, our very own Clover Hill Farm dog, hoping to see you soon here at Clover Hill in Hardwick!